Mobile Communication: From the Stone Age to the New Age
I can remember my first experience with mobile phone technology. I was roughly 10 years old, and my father had purchased what appeared to be a purse with a small phone attached to it. It was a glorious Nokia bag phone. It was some of the newest mobile phone tech that let you make calls easily from anywhere on the road…or at least that was the sales pitch. Unfortunately, it was only famous in our household for poor signal, bad call clarity, and "roaming" everywhere you went on the road. For all of those who don't know what roaming is, it was your worst nightmare.

Fast forward to the year 2019 and, needless to say, technology has evolved leaps and bounds from those bulky bag phones of the 90's. We now own high functionality computers, high definition cameras, televisions, and global communication devices…all on our mobile phones, in our pockets. Our cell phones give us access to the totality of human knowledge in the palm of our hands — which can be easily dropped into the toilet while we are playing Candy Crush.
Office Phones: The Bricks That Bind Us To Our Desks
Until recently, our work phones have been bricks that sit on our desks and give us basic communication functionality that also let us conference call, call forward, receive voicemail, and catch up on the latest gossip from Jenny in HR. Updates to work phones have given us the option to change our availability, change the way our calls route, give us access to a global company directory, etc…all from the comfort (or discomfort) of our desk. However, it remains at the desk. Desk phones are static and don't allow users to move around while searching for files, giving information to a coworker several feet away, or taking a VIP call to lunch since they called five minutes before break.
Enter Allworx Reach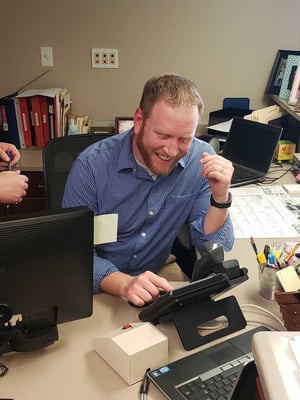 Allworx has utilized the advancements in mobile technology to enable you to bring your office phone with you wherever your cell phone can go via Allworx Reach. The mobile app can be easily downloaded to Android or iOS. It essentially turns your cell phone into a copy of your office phone.

Any calls made via the Allworx Reach app show up as your desk phone and not your personal cell phone number. This keeps your personal cell phone number away from clients, staff, parents, etc who you might not want to be able to call you personally. The app also conveniently has a button to switch to offline mode. This will make calls skip your cell phone and route to everything else normally without disturbing you.

One of the best benefits is that you are able to swap calls seamlessly from your desk phone to your cell phone and back. With one button you can swap the call from your desk to your cell phone and take the call anywhere. Even when moving off of your wifi, the call will move over to phone data and continue. When you get back to your desk, just push a button on your cell phone, and the call is instantly swapped back to your desk phone. This enables you to no longer be bound to your work desk. Instead of being stuck on a call for thirty minutes, you can take the call with you and continue to get things accomplished.

Some of the additional benefits that come with having the Allworx Reach app include the ability to:
change call routes to your Reach app just like you would a standard office phone.
view your coworkers' statuses to see if they're on a call or away from their phone.
receive 911 alerts on your cell phone if someone dials 911.
access the company-wide phone directory, which gives you a list of every contact in your corporation so you don't have to memorize extension numbers.
move seamlessly between your company wireless and phone data, then back again.
make pages anywhere you have cell signal (if your paging system is tied into your Allworx Phone Server).
Ready to Learn More?
Hear from schools that use Allworx in their schools. Or click here to contact a Five-Star Allworx specialist who is happy to answer your questions.