Yes! Effective communication is the key that helps you deepen your connections to others and improve teamwork, decision making, and problem-solving. It enables you to communicate even negative or difficult messages without creating conflict or destroying trust.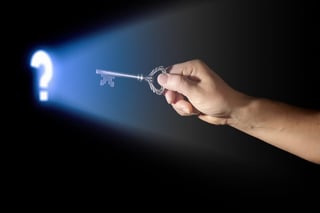 When you hear the word 'key' several words may come to mind; lock, unlock, guard, protect. Communication has been important for years. We have gone from telegrams and the Pony Express to USPS (or "snail-mail" as it is called today), email, and IM. It has gone from taking months or days to instant answers to questions you have. In order to have effective communication, you need to understand the keys that unlock those doors.
In this blog series, we will look at ways to strengthen communication between technology staff and educators within your school district!
---

How can teachers help tech staff?
Well, it all comes down to being an effective communicator. When troubleshooting technology, you really can't be too specific! Here are some ways you can help your tech team:
Explain (in great detail) what you have done so far. When you're filling out your ticket, let us know if you've restarted your computer or checked cables. If you're having a software problem, let us know exactly what you clicked that caused the problem.
Allow student leaders to become "experts" with devices or apps. You might be surprised by how much they can help with troubleshooting!
Document your technology problems, especially if it's a recurring event. Jot down information concerning frequency and duration when problems are occurring.
Be specific and detailed in all communication. Seriously. Tell us every single thing you've tried, clicked, or checked. The more information we have upfront, the greater the chances we'll be able to resolve your problem in a timely manner.
Make sure the area around your technology is de-cluttered. Provide a clutter-free area for techs to access equipment freely. If you're not in the room when they come to troubleshoot, they may not feel comfortable getting into "your space."
Tell them about comparisons between whether things work at home vs. whether they work at school. This will provide some additional home-to-school and school-to-home feedback. We may be able to narrow down the cause of the issue more quickly!
Prioritize. What do you need right now in order to create awesome learning experiences for your students? It is most important to us that you can use technology to increase student engagement.

Remember that techs, just like teachers, have multiple responsibilities and demands that feel unrealistic in the best of times. It can be frustrating when we spend our time fixing issues that could easily be resolved with a simple one- or two-step procedure. We don't mind the easy fixes, but we also don't want you to be without the tools you need to teach. Sometimes it is the simple click of a button, a computer restart, or a loose cable that you're waiting on a tech to fix.